| | | |
| --- | --- | --- |
| | | |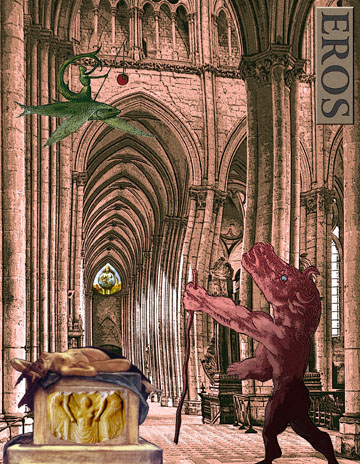 The EROS image uses the interior of Amiens Cathedral as a backdrop. (As a matter of fact, the exterior of Amiens was used in the SOPHIA image.) The female in the composition is possibly a temple priestess (or sacrificial virgin), and is portrayed on an altar with a frieze depicting the Rebirth of Aphrodite. Despite her role as a love goddess, Aphrodite was ritually washed clean and reborn as a virgin annually. The virgin is only one part of the female trinity, (along with mother-whore, and crone). The sightless minotaur is possibly the unconscious male libido which stumbles blindly in its pursuit of union (hieros gamos), with the divine female energy. The small triangular window in the distance is an alchemical image of the magna mater. The hovering image of the knight on the winged fish is from The Garden of Earthly Delights by Hieronymous Bosch - member of a heretical, gnostic sect called the Adamites. But this is just superficial, background information. The real interpretation of the image lies entirely in the mind/imagination of the beholder.

The John Meluch Collection: [1] [2] [3] [4] [5] [6] [7] [8] [9] [10]



---
John Meluch was born in 1948 in the once industrial town of Lorain, Ohio. His earliest memories include the nightly fireworks of a nearby steel plant, the rumble of locomotives in his backyard, and the distant chatter of shipyard riveters......all a distant memory now. He has worked at several careers including: teacher, shipyard worker, graphic artist. He presently resides in Lakewood, Ohio where he teaches High School English and also does freelance digital graphics and photography. He has most recently collaborated with British 3-D digital artist Tom Grimes.
rhinolkwd@aol.com
http://members.aol.com/rhinolkwd/bio.html
---
[ gallery index ]

[ news ] [ audio ] [ library ] [ cozmikast ] [ garden of blog ] [ contact ]

[ home ]