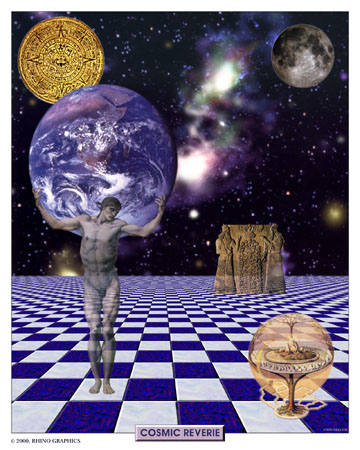 This image began as a very simple experiment: try to combine the figure of Atlas with an actual photograph of Earth (Gaia) as seen from an orbiting satellite. After that was achieved, it seemed necessary for Atlas to be standing on something.....perhaps an imaginary grid. The more I gazed at the lonely Atlas & Gaia, the more I imagined seeing other cosmological images.....and then the Norse Yggdrasil Tree appeared. Next, it seemed only appropriate to put in a background of deep space....and then the moon appeared. As my reverie continued, I decided to include the solar calendar of the Aztecs. Finally, a frieze of the ancient Persian Tree of Life, completed the dream-like composition. Unlike most of my digital collages, this work truly took on a life of its own. I hope that the effect on the viewer will also create a dream-like sense of wonder about the cosmos.....perhaps not unlike my own cosmic reverie.

The John Meluch Collection: [1] [2] [3] [4] [5] [6] [7] [8] [9] [10]



---
John Meluch was born in 1948 in the once industrial town of Lorain, Ohio. His earliest memories include the nightly fireworks of a nearby steel plant, the rumble of locomotives in his backyard, and the distant chatter of shipyard riveters......all a distant memory now. He has worked at several careers including: teacher, shipyard worker, graphic artist. He presently resides in Lakewood, Ohio where he teaches High School English and also does freelance digital graphics and photography. He has most recently collaborated with British 3-D digital artist Tom Grimes.
rhinolkwd@aol.com
http://members.aol.com/rhinolkwd/bio.html
---
[ gallery index ]

[ news ] [ audio ] [ library ] [ cozmikast ] [ garden of blog ] [ contact ]

[ home ]