Mike McGlone of The State Prison Light Show gives us a peak behind the scenes of New England's unique psychedelic revival project. McGlone also helped wire the new Mind Mined studio. Thanks to Mike on both counts!





An Interview with Mike McGlone of The State Prison Light Show...

Q: Mike, how did the Light Show get started and who are the players?

A: As a huge psychedelic era fan i viewed the Monterey Pop Festival (1967),while i was in highschool. In that film, during Jefferson Airplane I saw my first glipse of a psychedelic lightshow, after that it was implanted in my brain. A few years after that my friends and I worked on an inside lightshow called "CARL", named after Carl Sagan. Carl was a small "living room" sized lightshow. We mostly brought Carl to parties and it even made a trip out to Star Island for the hotel staff. Towards the end of Carl, I started thinking about the lightshow I had seen in the Monterey Pop film. Tyler Alie (member of the Carl circuit)vand myself, then set about developing our own liquid/film lightshow.

Q: Tell us about the SPLS/4th Kind connection.

A: We bumped into the The 4Th Kind at the very moment we decided to start a new lightshow and look for a band to perform with. I first met The 4Th Kind through a friend who knew Jerry Kibbey(Bass). The friend recommended I go see the band, which happened to be playing at a party down the street from my place.  I noticed that the group had its own light tree, which meant they had some interest in lighting. After going to see the group for a second show at the Sugar Shack in Lee, NH. Tyler and I talked to the group and told them about our new lightshow idea and it took off that day!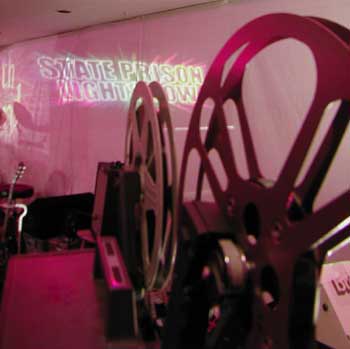 Q: What are some of your inspirations?  Who has done this before and who is doing it now besides you?

A: The classic psychedelic lightshow was born in the mid sixties, hundreds of them popped up in large cities and on the west coast. Then with the advent of stadium shows and disco, psychedelic lightshows just vanished. We have been inspired by the masters: Glen McKay's Headlights, Bill Ham's Light and Sound Dimension, Joshua White's Joshua Lightshow. Two lightshows that did survive, Brotherhood of Light and The Lightworks Planet Earth both have helped us out. They have have given us tips, phone numbers and equipment. As there are no books written on the subject, what we learn from them is priceless. Psychedelic lightshows have enjoyed a rebirth of sorts in the last ten years, most of them on the West coast. As far as east coast goes, you have Tim Pace of Lightworks Planet Earth and Eclipse Light-works out of the Washington DC area, and I believe that the State Prison Lightshow is the only psychedelic lightshow in New England.

Q: Give us the gear lowdown. What kinds of equipment do you use?

A: We run a liquid/film psychedelic lightshow. We use 1000 watt overhead projectors (we have 2 that were once owned by NASA), 16mm film projectors and slide projectors.

Q: Upcoming shows?

A: April 5 2003 JUICY MAGAZINE RELEASE. Event to feature DJ's and The State Prison Lightshow. Newbury St. Boston Mass. Check our website for directions.

Q: How can a band hire the State Prison Light Show?

A: Bands, DJ's, Promoters, and theaters can contact me through the website, I do check my mail. [stateprisonlightshow.com is currently offline. -ed.]

Q: How would you describe you personal contribution to the SPLS?

A: There are three of us who really make up the "core" of the lightshow, Meaghan Cowan, Tyler Alie and myself. My jobs in the lightshow include booking, equipment acquisition and during live performance I can be found running 16mm films.

[The State Prison Light Show was featured by The Spotlight, including shots of Mike and Tyler. -editor]