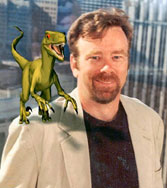 ---
James Patrick Kelly
jim@jimkelly.net
visit


James Patrick Kelly has had an eclectic writing career. He has written novels, short stories, essays, reviews, poetry, plays and planetarium shows. His books include Strange But Not A Stranger (2002), Think Like A Dinosaur and other stories (1997), Wildlife (1994) and Look Into The Sun (1989). His fiction has been translated into nineteen languages. He has won the World Science Fiction Society's Hugo Award twice: in 1996, for his novelette "Think Like A Dinosaur" and in 2000, for his novelette, "Ten to the Sixteenth to One." He writes a column on the Internet for Asimov's Science Fiction Magazine and his audio plays were a regular feature on Scifi.com's Seeing Ear Theater. In 2004 he was named chairman of the New Hampshire State Council on the Arts; he also serves on the Board of Directors of the New England Foundation for the Arts.



James Patrick Kelly releases:
The Pyramid of Amirah (2004)


more audio offerings...


recording artists

releases

tracks