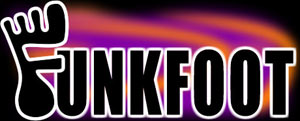 ---
Funkfoot
booking@funkfoot.com
visit


Funkfoot is a funk fusion band based in the New Hampshire Seacoast. Their original music is a complex mixture containing elements of funktonium, jazzuminium, and roxygen. Close proximity to Funkfoot has been known to cause semi-voluntary body movements. Side effects may include: euphoria, uncontrollable head bobbing, and funkitis. Excessive use of Funkfoot may result in muscle soreness, and possible addiction. If you are suffering from Same Song Syndrome, Funkfoot may be the cure.



Funkfoot releases:
Badunkafunk (2005)


more audio offerings...


recording artists

releases

tracks