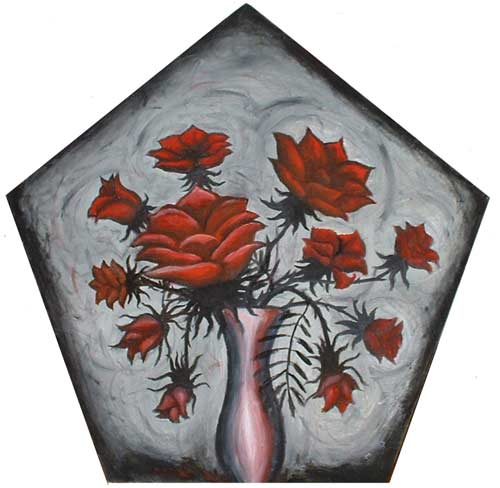 Five Sided Square is a piece by Tyler McPherson from 2004.

The Tyler McPherson Collection: [1] [2] [3] [4] [5] [6] [7] [8] [9] [10] [11] [12] [13] [14] [15] [16] [17] [18] [19] [20] [21] [22] [23] [24] [25] [26] [27] [28] [29] [30] [31]



---
Tyler McPherson is an artist out of Middleton, New Hampshire. He works in various media including pen and ink, oils, acrylics, charcoal and even sculpture.

From Tyler: "I am a 17 yr old, senior in high school, my step dad is in the military so I've moved every few years. I've been painting for about two years now, ever since I moved to Hawaii (although that has nothing to do with it) My work has been published a few times, in the Hawaiian Childrens Trust fund calender, as well as a contest I won 2nd place in through the coca cola company. My art for them was put on a vending machine at my school, as well as in the magazine and it was put in the Coca Cola museum in Georgia. I moved up to New Hampshire to live with my dad for senior year. I will be having a show coming up at the Farmington, NH library, as well as me running my own show probably in January 2004. And my work is going to be the cover of Rhythm Ship's next full length cd. I have been selling my work for about as long as I've been painting. My art is in Hawaii, Texas, Indiana, New Hampshire, I believe I also have stuff in Ohio, and who knows where else since a lot of the people I have sold to were in military families."
awkwardart86@hotmail.com
---
[ gallery index ]

[ news ] [ audio ] [ library ] [ cozmikast ] [ garden of blog ] [ contact ]

[ home ]